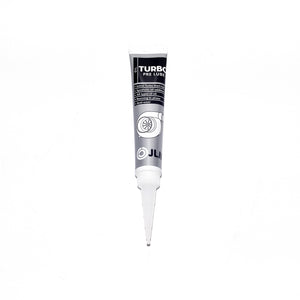 Using JLM J06010 Turbo Pre Lube is crucial for extending the operating life of used or newly assembled turbos. JLM Turbo Pre Lube protects the turbo when the engine is started for the first time after its assembly and helps prevent the premature wear of vulnerable internal parts.
JLM Turbo Pre Lube is crucial for extending the operating life of new turbos.

Turbos are technologically advanced components with internal rotating parts. The tolerances of these high-precision parts are marginal and the revolution speeds can exceed more than 100 thousand revolutions per minute. The central axis, movable vanes, and the turbine wheel are centred using a thin film of compressed engine oil. It can take up to 30 seconds before engine oil reaches vulnerable parts if a car is started once a replacement turbo has been fitted.

However, if these parts have not been lubricated - before the engine is started - they will wear out quickly and eventually break. It is important to follow the assembly instructions made available by the car and/or turbo manufacturer if you want to prevent turbos and their parts getting damaged after assembly.

One of the most important things that needs to be done following the assembly of a turbo and starting the engine is lubrication. JLM Turbo has developed Pre Lube for this purpose. JLM Pre Lube is a high-quality product which provides moving turbo parts with a safe coating.
JML Turbo Pre Lube has been developed in conformity with the highest specifications and prevents premature wear of high load, moving parts.
Product Usage:
Suitable for all turbochargers for initial filling. Before connecting the oil inlet hole of the turbocharger, fill to the brim. Prevents oil deficiency damage and dry running at first start. Fully synthetic additive with particularly good emergency running properties. Suitable for all engine oils.